Japan Airlines Double Miles Campaign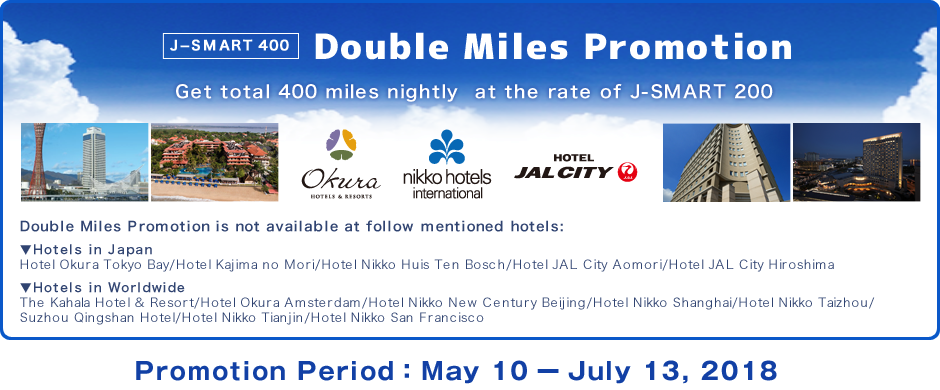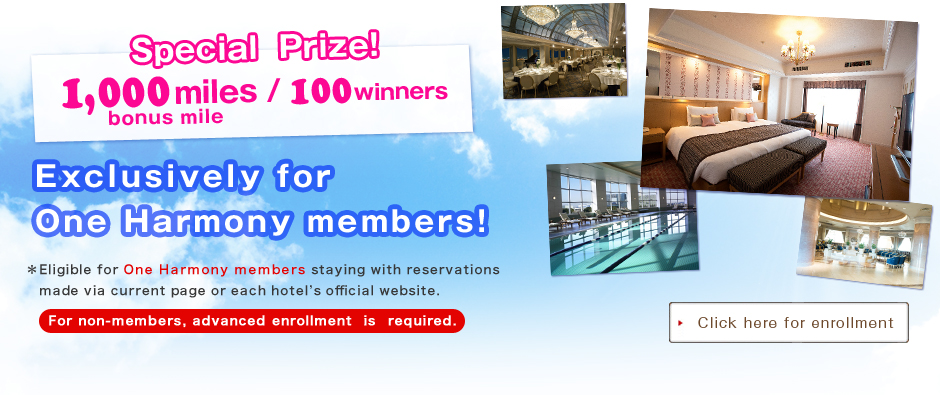 For JAL Mileage Bank members
Get 400 miles (including 200 bonus miles) per night at the rate of J-SMART 200!
Eligible staying period: May 10 to July 13, 2018 (staying basis)
---
Contact by Internet or Phone
Award of miles accumulation is vaild for members staying with "J-SMART" rates only. Select eligible hotels as listed below. Digits mentioned after the type of room rate "J-SMART" mean numbers of miles credited nightly. (ex. "J-SMART 400" : 400 miles are credited per night)
* Miles accumulation for JAL Mileage Bank (JMB) members is not available at Shiroyama Kanko Hotel and The Shilla Jeju.
* 500 miles are credited per stay when you stay with eligible rates at The Okura Prestage Taipei, Hotel Okura Macau and The Shilla Seoul, however "J-SMART" rates are not available at these hotels. (Miles award are eligible in case bookings are made via Okura Nikko Hotels Reservation Center or direct bookings at each hotels. Please contact for further details about eligible rates.)
Nikko Hotels International
---
Reservation Centers

Okura Nikko Hotels Reservation Center
Please dial 1-800-645-5687
if you are calling from United States.
For other countries, click here.
---
Notes to earn miles
[To "J-SMART" rates users]
The following digits after "J-SMART" is the number of miles credited per night. (ex. "J-SMART400" = 400 miles per night)
Please present your JMB/JAL Card and mention that you wish to receive mileage credit on your JMB account by checking-in.
Miles will be credited within 2-3 months after the check-in date.
Limited number of rooms are available with "J-SMART" rates.
There are embargo dates set by each hotels.
Mileages are credited for the room where member stayed.
In case sharing one room with 2 or more guests will result in the crediting of mileage for 1 person.
JMB miles are credited for the payment by JAL coupon.
Please note that all above information and conditions are subject to change without notice.
See about the payment by JAL Coupon
[The Okura Prestige Taipei / Hotel Okura Macau / The Shilla Seoul]
Notes to earn miles
Miles accumulation is not eligible when bookings are made via travel agencies or booking engines other than Okura Nikko Hotels ' homepage.
You will earn miles only when hotel room charges are paid directly to the hotel.
A guest must be a member of a participating airline program account to earn Airline miles.
A guest must provide your valid airline program membership card or number at check-in. Guest name must match airline program name to earn Airline miles.
A guest can only earn Airline miles in one airline program per qualifying stay.
Airline miles can only be earned by one person per room per stay.
A "stay" is defined as any number of consecutive nights at one hotel regardless of check-ins or check-outs.
On the other hands, miles are earned on one stay for whole period even if guest checked-in the same hotel less than 24 hours after previous checking-out date.
Reserving multiple rooms in the same member' s name will result in the crediting of mileage for 1 stay.
In case sharing one room with 2 or more guests will result in the crediting of mileage for 1 person.
A guest must pay for and occupy the room in order to receive Airline miles.
Airline miles are earned on the eligible room rate at Okura Nikko Hotels Reservation Center or hotel website. For details of eligible room rate, please check with the individual hotel.
[Eligible Room Rate]
Mileage will be credited only when hotel room charges are paid directly to the hotel.
Group rates are not eligible for mileage credit.
Some discounted rates may not be eligible at certain hotels.
Allow 2-3 months for Airline miles to be credited to your airline program account.
Once Airline miles have been credited to your designated airline program account, they cannot be moved to another participating airline program account.
Until your mileage has been credited to your account, please retain hotel receipts issued in your name.
[For further information and inquiries, please contact the following methods;]
(1) Filling out the application form
(2) By postal mail (One week processing time is required for this)
*Please write your name, Hotel name, Check-in/Check-out date, frequent flyer membership name, and frequent flyer membership number.
All JAL MILEAGE BANK program rules apply to its program membership, miles, offers, mile accrual, mile redemption, and travel benefits. The rules are subject to change anytime. To review the rules, please visit JAL MILEAGE BANK.
---
For One Harmony Members
Member benefits apply only to hotel stays reserved through Okura Nikko Hotels Reservation Centers or official websites, or directly with a participating hotel.
Please click here, for details of One Harmony members benefits.
Present your Member Card at check-in.

Welcome to One Harmony
Discover a World of Elegance and Refinement in Our Free Membership Program.