Introducing hotels especially suitable for a relaxing stay for guests accompanied by children. Offering an experience overflowing with smiling faces and filled with pleasure for the entire family.
Hotel Facilities/Services
NIKKO HOTELS INTERNATIONAL
Hotel Nikko Alivila/Yomitan Resort Okinawa
Yomitan
OKURA HOTELS & RESORTS
The Okura Prestige Taipei
Taipei
▋"First Meal" celebration "100-Days Feast"
---
"Okuisome" is a celebration held 100 days after a child is born. Japanese cuisine Yamazato at The Okura Prestige Taipei offers the ideal 100-days feast to celebrate "Okuisome." Come spend this special day with your family.
* Reservations required
Inquiries: Yamazato Japanese Fine Dining +886-2-2181-5137 (11:30-14:30/18:00-22:00)
NIKKO HOTELS INTERNATIONAL
Hotel Nikko Tsukuba
Tsukuba
▋Picture book lending service
---
When you want them to engage in a quiet activity, even for just a few minutes, while you attend to other things, feel free to contact the front desk.
A selection of picture books is available for our young guests.
You may even discover a new favorite.
* This service is only available at Hotel Nikko Tsukuba.
---
Lending of toys and books for children are also available at the following hotels. Contact each hotel directly for details.
Hotel Nikko Northland Obihiro/Hotel JAL City Sendai/Okura Academia Park Hotel
NIKKO HOTELS INTERNATIONAL
▋Kids' Play Room
---
A play room is available for children to use free of charge. Filled with a large selection of entertaining toys, providing a full day of activity even if it rains. There are also staff-selected DVD programs shown for our young guests to enjoy.
Comfortable sofas are provided for parents to sit and relax while watching the fun.
Open: 9:00–18:00
There are many other activities available for children to enjoy.
Contact hotel directly for details.
NIKKO HOTELS INTERNATIONAL
▋Kids' Play Room
---
A play room is available free of charge for hotel guests. Equipped with a play gym to allow your little one to enjoy active playtime. A parent or guardian must accompany children using the play room.
Open: 7:00–22:00
There are also other facilities available for guests with children, including a pool and private beach.
NIKKO HOTELS INTERNATIONAL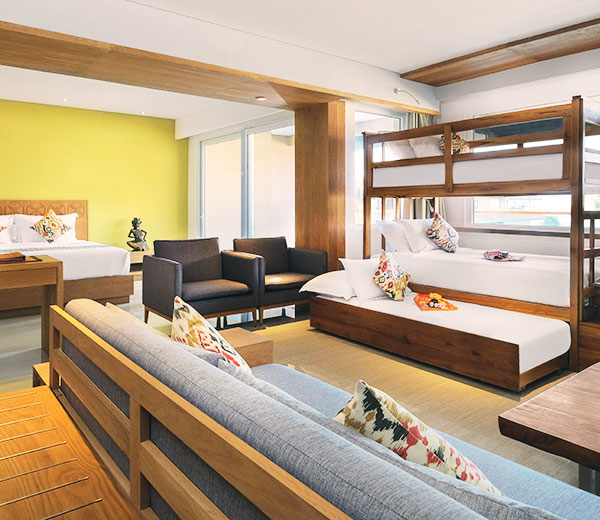 Hotel Nikko Bali Benoa Beach
Bali
▋Family Rooms and Suite, fun activities and special amenities for your children
---
Enjoy a comfortable stay with your children in the spacious Family Rooms and Family Suite. The Family Room features a bunk bed to accommodate two children. The Family Suite includes a specially designed bunk bed that accommodates three children in a spacious room of 106 ㎡ with a direct view of the Indian Ocean.
The Cening Kids Club offers various activities to stimulate and entertain children of 4 – 12 years old. The interactive club features flat-screen TVs, video games as well as other exciting features and activities.
Upon arrival, children will be spoiled with a welcoming gift that includes a child-sized bathrobe, slippers and other amenities.