Register for the promotion during the period of August 28th– November 13th and stay at any of the participating Okura Nikko Hotels in Asia, Europe, North America, and other regions during September 1st–November 30th to receive double* One Harmony points for your stay.
*Registration is required for this promotion, even if you have registered for other promotions.
*Normal stay points + extra normal stay points
Register before Your stay! Earn Double Points
Promotion Registration Period: August 28th – November 13th
Stay Period: September 12th – November 30th
*Complete registration one day prior to checking in.
(Register by 11:59 p.m. in local time where the hotel is located.)
If you register, you are considered to agree with the terms and conditions of the promotion and Privacy Policy of Okura Nikko Hotel Management Co., Ltd.
Steps for promotion registration
Step 1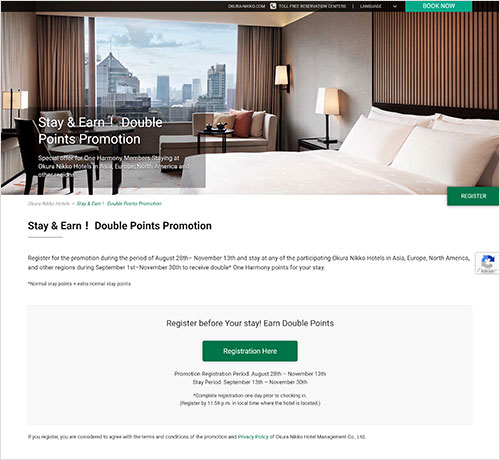 Click the [Register Here] button on this page.
Step 2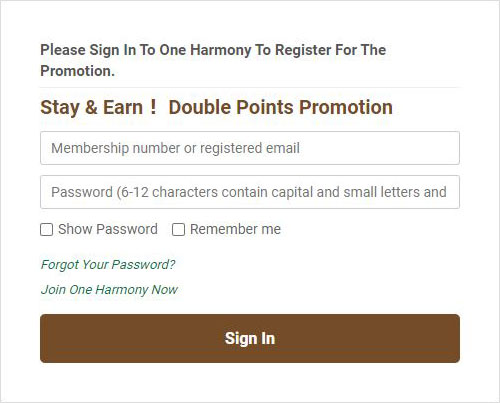 One Harmony Sign in is required to register for the promotion. Sign in by entering your membership number/registered email address, and password in the pop-up.
If you forgot your membership number or registered email address, please inquire here.
If you forgot your password, please reset it here.
Step 3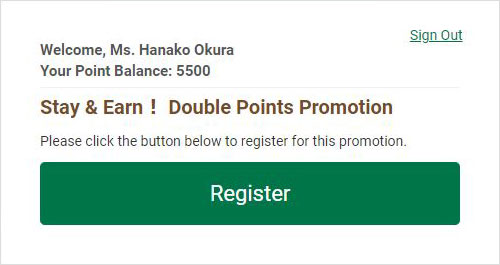 Click the [Register Here] button. Your registration is completed if you see "You have successfully registered for the promotion.".
Register before your stay! Earn Double Points
Promotion Registration Period: August 28th – November 13th
Stay Period: September 12th – November 30th
*Complete registration one day prior to checking in.
(Register by 11:59 p.m. in local time where the hotel is located)
If you register, you are considered to agree with the terms and conditions of the promotion and Privacy Policy of Okura Nikko Hotel Management Co., Ltd.