Blissful Moments at Hotel Baths-
Relax and Rejuvenate, from Hokkaido to Okinawa.Stone bath, aromatherapy bath, such as the outlook baths, hotels with hot bath facilities from here.
---
About Mark;

The mark indicates hotels with natural hot spring baths.

The mark indicates hotels with spa facilities in the bath areas.
Nikko Hotels International
JR Tower Hotel Nikko Sapporo
Sapporo
Sky Resort Spa "Pulau Bulan"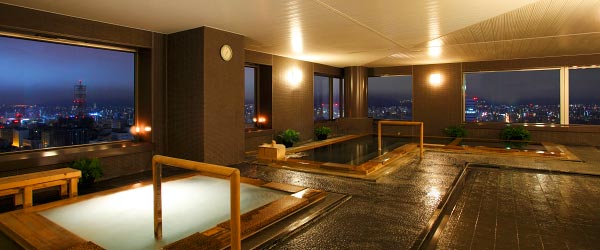 Sky Resort Spa "Pulau Bulan (the island of the moon)" offers a refreshing space. The spa employs natural hot spring water flowing in 1,000m from an underground source below Sapporo Station's southern entrance. The entire 22nd floor is given to state-of-the-art spa facilities, including natural hot springs (heating, circulation and filtration system), air bubble baths, and saunas.


Business hours
11:00-23:00 (closes at 23:30)
Admission fee
Hotel guests: JPY 1,910
Visitors: JPY 3,070
[Notice]
Fees apply to each person, per entry.
The above fees include the service charge, bathing tax, and consumption tax.
Spa users must be age 18 or over.
Complimentary towels, amenities, and spa robes are available.

Showing 1 out of 1 property found in special offers
---
Notice for Visiting the Baths Listed Above
The hours of operation and usage policy of each bath differs by hotel, so please click the "Bath Details" button and check the information. You can also directly contact the hotel.