Blissful Moments at Hotel Baths-
Relax and Rejuvenate, from Hokkaido to Okinawa.Stone bath, aromatherapy bath, such as the outlook baths, hotels with hot bath facilities from here.
---
About Mark;

The mark indicates hotels with natural hot spring baths.

The mark indicates hotels with spa facilities in the bath areas.
Nikko Hotels International
Hotel Nikko Huis Ten Bosch
Nagasaki
Large Public Bath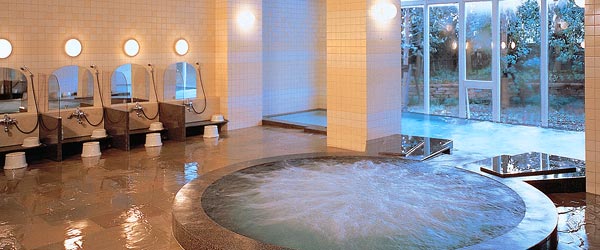 Enjoy relaxing moments in the Jacuzzi. The large public bath is equipped with bath and face towels, razors, shampoo, hair conditioner, and body soap.
Business hours
Admission fee
Free, available only for hotel guests.
[Notice]
The bath may become crowded at certain times of day.
The hours of operation are subject to change due to private reservations etc.

Okura Hotels & Resorts
SHIROYAMA HOTEL kagoshima
Kagoshima
Fine-View Open-Air Hot Spring "Satsuma-no-Yu"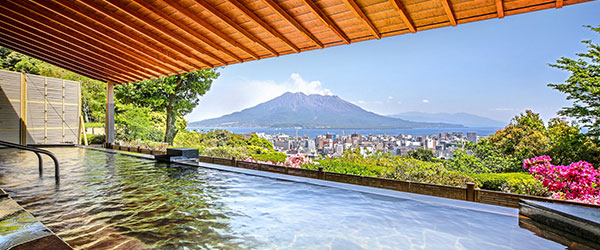 The open-air bath features quality hot spring water flowing from 1,000m underground with a spectacular view of Mt. Sakurajima and Kagoshima City from a 108m hillock. Savor the magnificent vista of the season, in the ultimate blissful space.


Business hours (last entry 23:30)
April to September: 5:30-24:00
October to March: 6:00-24:00
Cleaning time
The indoor bath is closed every Tuesday 10:30-14:00 for regular cleaning.
Although the bath will be available for use, a regular cleaning is scheduled every day between 11:00-13:00.
Admission fee
Free for hotel guests
Visitors:

Adult (Over age 12) JPY 2,300 (excl. Consumption and bathing tax)
Children (Age7-12) JPY 1,150 (excl. Consumption tax)
Toddlers (Age4-6) JPY 600 (excl. Consumption tax)
Children under 3 years old are free of charge.
[Notice]
The bathing tax (JPY 150) per adult (over age 16) will be charged.

Showing 10 out of 10 property found in special offers
---
Notice for Visiting the Baths Listed Above
The hours of operation and usage policy of each bath differs by hotel, so please click the "Bath Details" button and check the information. You can also directly contact the hotel.