Visiting Sacred Spots on the Island
---
Legend has it that the Ryukyu Islands were created by the deity Amamikiyo, who descended from the heavens into the middle of the sea. Located all around Okinawa Prefecture are numerous sacred spots linked to this creation myth, welcoming all those who visit into a world of mystery.
At the northernmost point of Okinawa's main island is Daisekirinzan, which is thought to be the location to which Amamikiyo first descended upon to create the Ryukyu Islands. Daisekirinzan is comprised of four rocky peaks known as Ashimui, and during the era of the Ryukyu Kingdom, generations of kings are thought to have come here to pray for the prosperity of their families, abundant harvests, and safety at sea, making it one of Okinawa's oldest sacred spots. Today, there are still more than 40 places of worship in the area­—known as uganju—allowing visitors to experience the spiritual, ancient memories that have been etched into the land.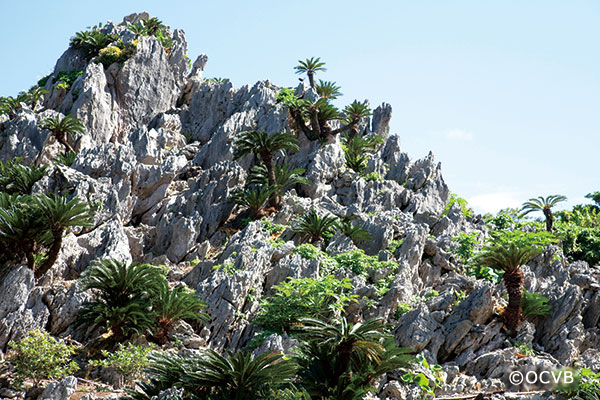 Amamikiyo and other Okinawan deities are thought to be enshrined in sacred locations known as utaki. These utaki can be found all over the Nansei Islands, and the location that was most revered during the Ryukyu Kingdom era is Sefa Utaki, which can be found in Nanjo City in the south of the main island. Within the grounds of the majestic Sefa Utaki are six ibi, or sanctuaries. One of these is Sangui, a small space that spreads out beyond a triangular tunnel formed by two huge rocks. As the sun shines through these rocks, visitors are presented with an awe-inspiring sight, and simply standing and taking in the view provides a mysterious cleansing feeling. Long ago, during Ryukyu Kingdom festivals, it is said that sacred white sand was brought over from Kudakajima Island—also known as Kami no Shima, or the Island of Gods—and spread over the premises. Kudakajima Island can be seen from Sefa Utaki, while it can also be accessed by high-speed boat in around 15 minutes from Azama Port, allowing visitors the opportunity to visit both places in succession.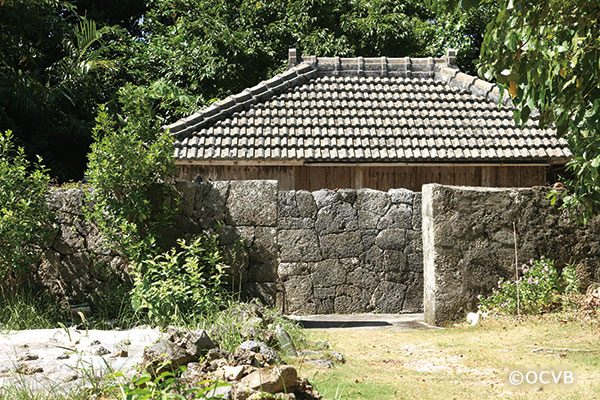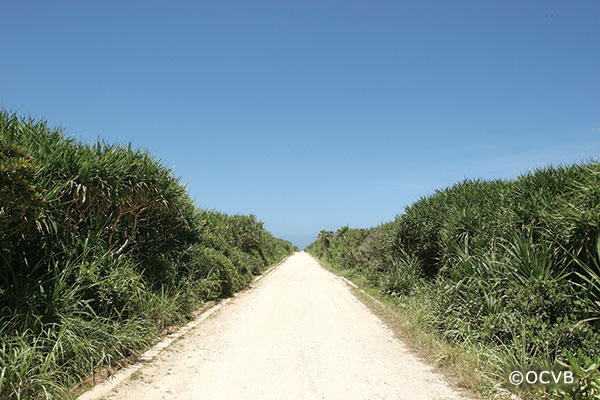 For a step away from the mystical, head to the Valley of Gangala to learn about the history of mankind. Inside the ancient valley, which was formed hundreds of thousands of years ago by a collapsing limestone cave, are traces of prehistoric people. Excavations are still underway, with discoveries including what is thought to be the world's oldest fish hook from nearly 23,000 years ago. The valley appears suddenly amidst a subtropical forest, and boasts strange land formations and diverse, deeply rooted trees and foliage, all of which serve to showcase the vitality of nature. The Valley of Gangala provides visitors with a chance to step back in time and experience a surreal world that communicates memories of the past.
Meanwhile, from Hotel JAL City Naha—the perfect hub for a holiday in Okinawa—visitors can drop by the Okinawa Prefectural Museum & Art Museum to learn about the history, nature, culture and art of Okinawa all under one roof. It is the ideal spot to gain some insight into the prefecture before setting out to experience the unique past and mystique it has to offer.
*This page is referred to One Harmony Membership Magazine YAWARAGI Vol.39
Hotel JAL City Naha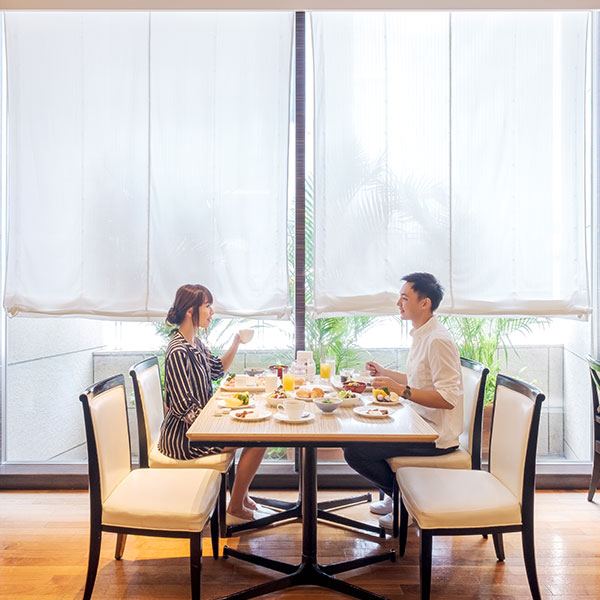 Hotel JAL City Naha's interior is decorated with colors and materials that evoke the nature and culture of Okinawa. The sophisticated resort-like atmosphere is quite comfortable.
The breakfast is a buffet of about 50 kinds of local ingredients. The chef, who knows all about Okinawa, will treat you with his special taste.