The Best of Taiwan | A Journey to Inner Peace
Hotel Royal Nikko Taipei guides you to the four spots in Taipei City and its suburbs for a deeply healing and refreshing experience.
Beitou Hot Spring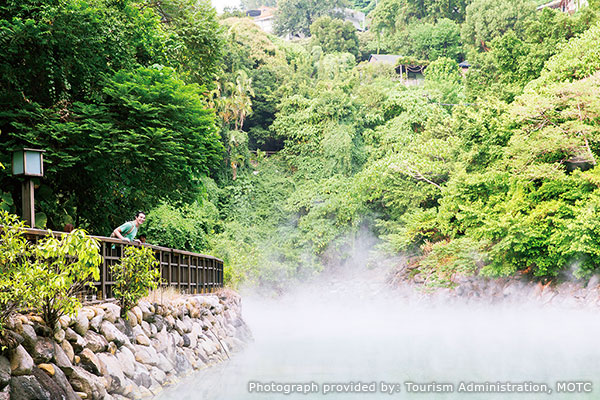 Beitou Hot Springs, located near Taipei, is Taiwan's most popular hot spring resort and is easily accessible from Taipei City. The most notable attraction is the thermal valley, where hot spring water erupts at a temperature of nearly 90 degrees °C. In the wintertime, the hot springs create a beautiful sight with steam rising from the surface of the lake. Guests can enjoy a day trip to a hot spring resort spa in the hot spring town, or bathing or soaking their feet in a public bathing facility. Some of the outdoor baths in public bathhouses require wearing swimsuits, so it is advisable to check in advance and bring your own swimsuit or buy one locally.
Near the Beitou MRT station is the Taipei Public Library Beitou Branch, which was once selected as one of the "25 Best Public Libraries in the World." The library's beautiful wooden architecture, in harmony with the river flowing through the hot spring resort and the abundant greenery in the surrounding area, creates a very relaxing atmosphere for visitors. It is secretly a popular spot among architecture enthusiasts.

Beitou Hot Spring
Address: Thermal Valley, Beitou District, Taipei City, Taiwan 112
Access from the hotel: From the Zhongshan MRT station, take the Danshui Xinyi Line to Beitou Station, then transfer to the Xinbeitou Branch Line to the Xinbeitou Station (approximately 30 minutes, including transfers). "Thermal Valley" is about a 12-minute walk from Xinbeitou Station along the hot spring trail.
King Ping Tea Restaurant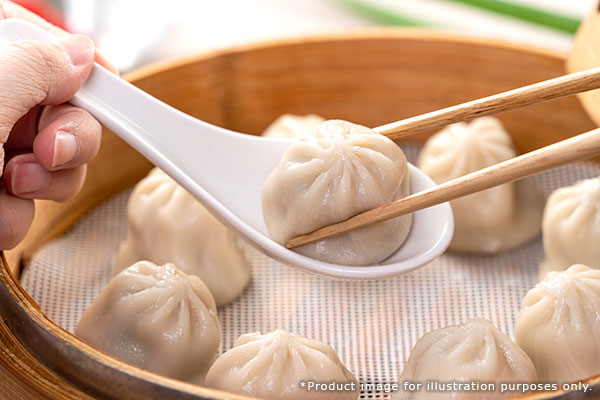 It is no exaggeration to say that "food" is the most exciting part of a trip to Taiwan. Among Taiwanese delicacies, "xiaolongbao" (soup dumpling) is a staple of Taiwanese cuisine, and a variety of restaurants, from famous restaurants that have expanded overseas to long-established local stores and popular restaurants that are the talk of the town, compete to offer the best taste with their own unique characteristics. If you are at a loss as to which restaurant to choose, head to the "King Ping Tea Restaurant" near the hotel. The chef, who trained for many years at "Din Tai Fung", the restaurant that ignited the xiaolongbao boom, has created a dish that faithfully follows the golden ratio of 5 grams of skin, 16 grams of filling, and 18 folds. The perfect balance of the skin, filling, and broth gently satisfies both the stomach and the soul. The modern and clean interior is easy to enter for those who are not familiar with the area or for tourists traveling alone.

King Ping Tea Restaurant
Business Hours: Lunch Time 11:00-14:00, Dinner Time 17:00-21:00
Address: No. 16, Changchun Road, Zhongshan District, Taipei, Taiwan
Access from the hotel: 3 minutes away by walking
National Palace Museum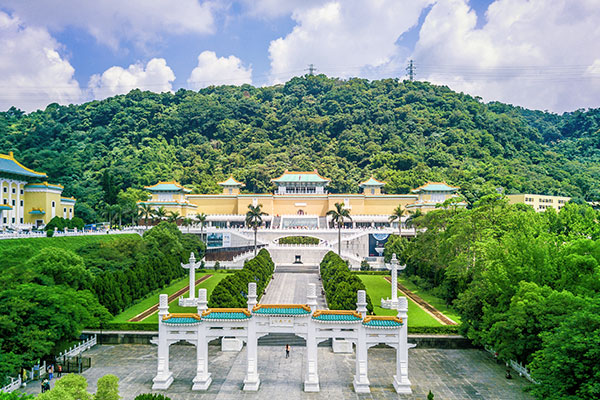 Along with the Louvre, the Metropolitan Museum of Art, and the Hermitage Museum, the National Palace Museum is one of the four major art museums in the world, and its collection of nearly 700,000 items, including items collected and treasured by successive Chinese emperors, forms one of the greatest collections of Chinese art and culture in history.
The exhibits are replaced on a regular basis, but it is said that it takes more than 10 years to see all of the exhibits due to the impressive number of items in the collection.
Forgetting the busyness of travel and immersing yourself in the world of beauty and history for a moment is another way to refresh your mind and body. Enjoy the treasures of Chinese civilization, such as masterpieces of paintings and calligraphy, exquisite handicrafts that are hard to believe to be the work of human hands, and precious artifacts that remind us of ancient times.

National Palace Museum
Business Hours: 9:00-17:00 (Tuesday-Sunday )/Closed on Mondays
Address: No. 221, Sec 2, Zhi Shan Rd, Shilin District, Taipei City, Taiwan 111
Access from the hotel: 20 minutes away by car
Hawaii Massage at Nanjing E. Rd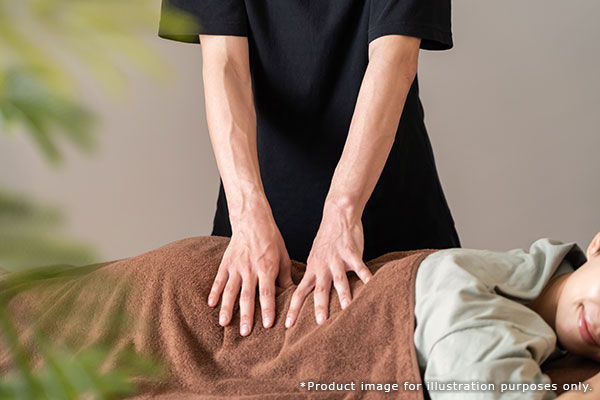 After a day trip to Beitou Hot Springs, indulging in a nourishing Taiwanese gourmet meal, or exploring the National Palace Museum, you can enhance your experience with relaxing a massage at a local spa.
Taipei is renowned for its foot massage establishments, and you can find massage parlors throughout the city. However, if you're seeking a massage to unwind at the end of the day, we recommend choosing a parlor near your hotel, allowing you to return and relax in the comfort of your accommodation afterward.
Hawaii Massage, located just a 5-minute walk from your hotel, boasts a team of experienced masseurs. They offer a variety of menu options, allowing you to tailor your massage based on your preferred duration and budget. Their offerings range from facials to full-body massages, bodywork, and foot massages, all designed to alleviate tension and relieve travel fatigue.
If you stop by the concierge desk at the hotel, we can ask about other areas of interest, treatment, budget, and time, and make an appointment at the best massage parlor for you.

Hawaii Massage at Nanjing E. Rd
Business Hours: 10:00-24:00
Address: No. 5, Ln. 13, Sec. 1, Nanjing E. Rd., Zhongshan Dist., Taipei City
Access from the hotel: 5 minutes away by walk
---
Hotel Royal Nikko Taipei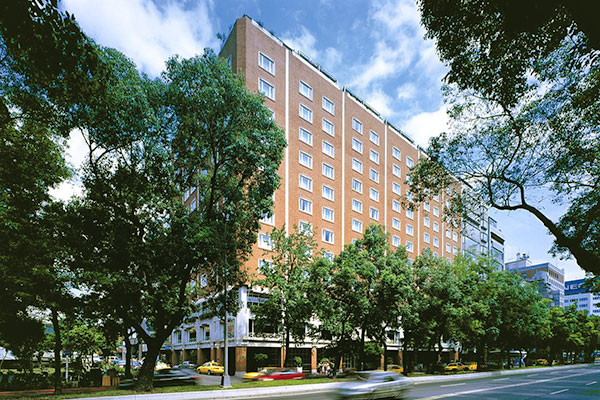 Hotel Royal Nikko Taipei is located in the beautiful tree-lined street of Zhongshan North Road, only 45 minutes drive from Taoyuan International Airport, 15 minutes drive from Taipei Songshan Airport, and 3 minutes walk from MRT Zhongshan Station. The hotel underwent a guest room renovation in 2017 to provide guests with a calm and relaxing space. We warmly welcome you to the hotel, gently illuminated by natural light.
---