The Best of Taiwan | Retro & Modern Adventure
The Okura Prestige Taipei recommends four spots in Taipei City where nostalgia and the latest trends blend together.
Dihua Street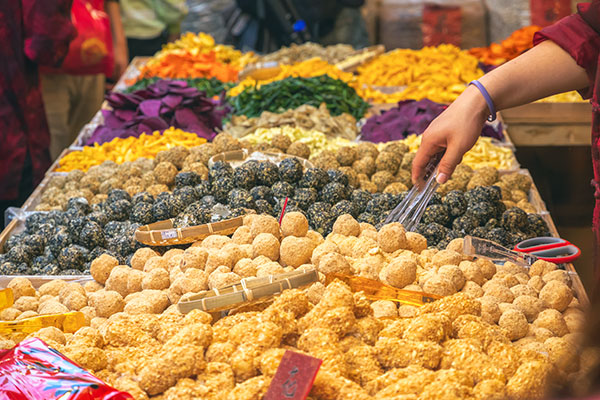 Dihua Street is the largest and oldest wholesale street in Taipei. The street is lined with baroque-style red-brick buildings that evoke a sense of history and is home to long-established wholesale stores that sell a variety of goods, including Chinese herbal medicine, dried foods, shark fins, dried mullet roe, and other luxury foodstuffs. At Chinese herbal medicine stores, they can recommend a combination of herbs tailored to your individual needs and purposes, such as improving your constitution or for beauty purposes.
The Yongle Market, a fabric market located on Dihua Street, is a visual delight, with fabrics of every color and type neatly displayed in rows. The market not only offers a wide range of fabrics but also bags and accessories, making it a perfect destination for handmade goods enthusiasts and souvenir hunters. Inside the market building, you'll find several shops specializing in tailoring, allowing you to purchase your favorite Chinese fabrics and place an order for a custom-made Chinese dress.

Dihua Street
Address: Dihua Street, Section 1, Dihua St, Datong District, Taipei City, Taiwan 103
Access from the hotel: 15 minutes away by walking
Chifeng Street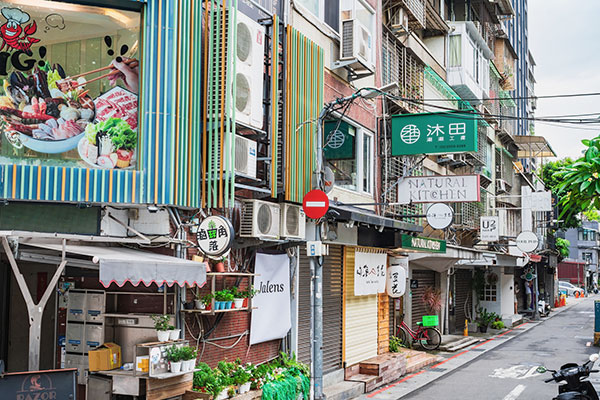 Chifeng Street is a quaint alleyway near Zhongshan MRT station. Once an urban area flanked by aged residential quarters and factories, it has undergone a transformation in recent years. Now, it boasts a collection of cafes, bakeries, bookstores, and specialty shops that have breathed new life into old structures, rapidly turning it into a popular retro and trendy district. The entire neighborhood exudes a creative atmosphere and has emerged as a vibrant cultural hub in Taiwan.
Take a leisurely stroll through the back alleys, each with its own distinct atmosphere separate from the main street, and explore the diverse concepts offered by these unique stores. Discover your very own favorite spot.

Chifeng Street
Address: Chifeng St, Datong District, Taipei City, Taiwan 103
Access from the hotel: 10 minutes away by walking
Shuanglian Sweet Rice Balls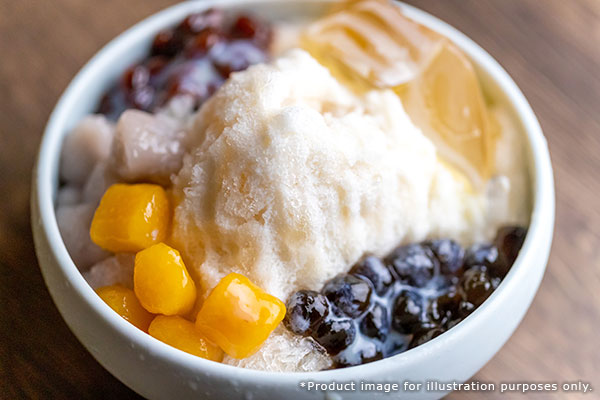 Taiwanese sweets like tapioca, Taiwan shaved ice, and soybean flour have gained popularity worldwide. Shuanglian Sweet Rice Balls, known locally as '雙連圓仔湯', is a well-established sweet shop near MRT Shuanglian station that has been delighting customers since 1951. Despite the fiercely competitive cafe and dessert scene in Taipei, it has remained a beloved favorite among locals for many years, thanks to its enduring reputation.
Among the wide variety of items on the menu, the signature items are shaved ice and plump, warm rice cake. For shaved ice, customers order three to four kinds of their favorite toppings from a list of 20 toppings, including red beans, peanuts, white beans, tapioca, and taro. Rice cakes are popular, topped with sugar, black sesame, or savory peanut powder. In winter, hot sweets such as zenzai and peanut soup are also recommended.

Shuanglian Sweet Rice Balls
Business Hours: 10:30-22:00
Address: No. 136, Minsheng W Rd, Datong District, Taipei City, Taiwan 103
Access from the hotel: 10 minutes away by walk
Taipei 101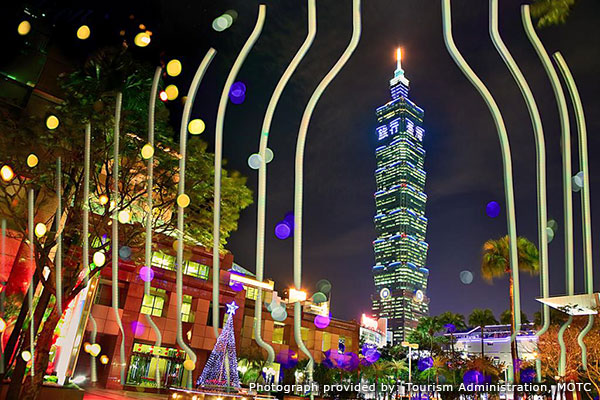 Taipei 101 is a renowned tourist attraction and a must-visit destination for sightseeing in Taipei. Soaring 508 meters high with 101 floors above ground, it holds the distinction of being the tallest skyscraper in Taiwan. The tower is divided into several levels, including an observation floor that offers panoramic views of Taipei, a restaurant floor where famous Taiwanese restaurants serve their delights, and multiple shopping floors housing a diverse range of stores. Here, you can find everything from international high-end brands to local Taiwanese souvenir shops.
Taipei 101 is also popular as the best night view spot in Taipei. There are cafes and stores on the observation deck, so you can enjoy the evening while looking for souvenirs or just taking a break. After enjoying the night view of Taipei city from the upper floors, enjoy a nice night at one of the fashionable bars or restaurants around Taipei 101 while admiring the beautifully illuminated Taipei 101.

Taipei 101
Business Hours: 11:00-21:30 (Sunday-Thursday)/11:00-22:00 (Friday and Saturday)
Address: Section 5, Xinyi Rd, Xinyi District, Taipei City, Taiwan 110
Access from the hotel: Take Danshui Xinyi Line from Zhongshan MRT Station to Taipei 101/Semao Station (Exit 4).
---
The Okura Prestige Taipei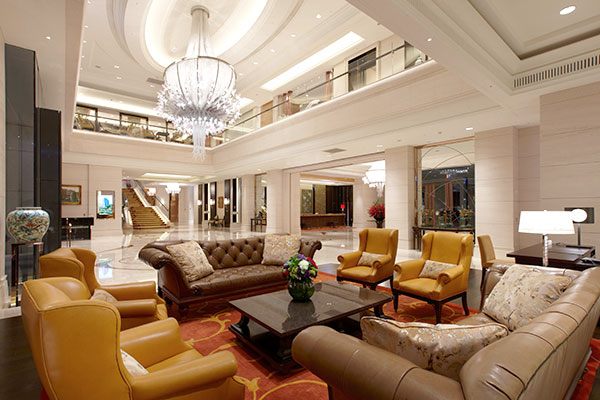 The Okura Prestige Taipei is one of the city's leading luxury hotels, located in the Zhongshan area of Taipei, the largest city in Taiwan. The Zhongshan Nanjing commercial area surrounding the hotel is home to financial businesses, international boutiques, and upscale restaurants and stands out as one of the most glamorous and sophisticated areas of Taipei City.
---