A Moment of Luxury at Night View Spots
---
Country Farm Tokyo German Village is 20 minutes by car from Sodegaura Station on the Uchibo Line and about an hour away from the center of Tokyo. Despite its proximity to the city, with German-inspired rural views, the expansive theme park feels like a holiday abroad. Country Farm Tokyo German Village offers whole-day fun for all the family, with a relaxing flower garden and lawned area, attractions such as a kids' roller coaster and a Ferris wheel, spaces for barbecues and delicious cold beer, a small children's zoo, and even a dog run.
The theme park's Winter Illumination event, meanwhile, sets out to enliven visitors with brilliant, colorful lights. Featuring highly entertaining installations that can't help but make visitors smile, this year the event will run from October 29, 2021, to March 21, 2022. Particularly special are the Rainbow Tunnel, an approximately 70-meter-long tunnel illuminated in seven different colors; the Light and Music Show, which features lighting displays that elegantly change alongside music; and the 3D Illumination, a visual illusion that can only be seen from inside the Ferris Wheel. Using the magic of nearly three million LEDs and lightbulbs, the park transforms the flowers and greenery of the day into a moving nightscape.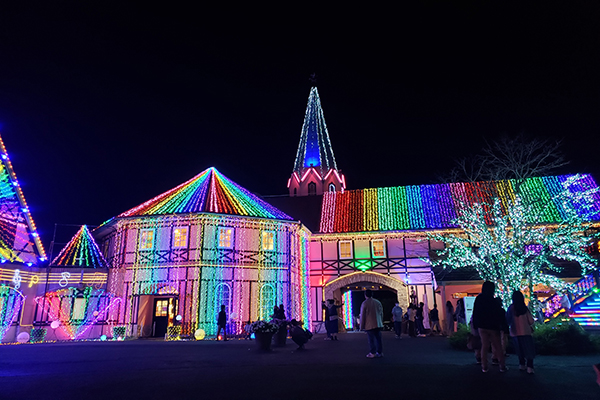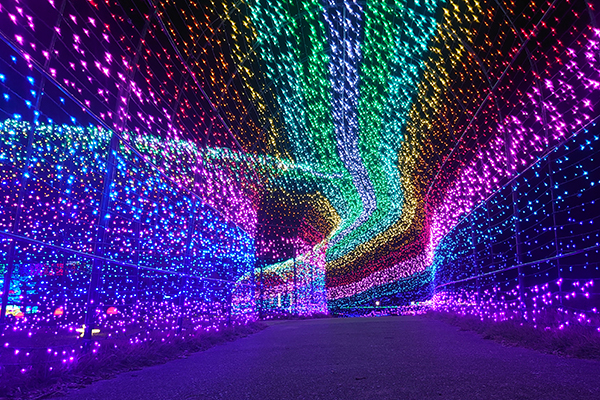 Mother Farm in Futtsu City is around 35 minutes on a direct bus from Kimitsu Station on the Uchibo Line, or approximately 70 minutes from the center of the Tokyo. The expansive 2.5 ㎡ grounds are home to adorable animals such as horses, sheep, alpacas, donkeys, rabbits, and guinea pigs, while visitors can also enjoy a wide range of stunning seasonal flowers, as well as grilled lamb, homemade sausages, soft-serve ice cream, and other foods unique to the farm.
In winter, the farm hosts the popular Flower Garden of Light illumination event, with brightly lit, colorful displays inspired by seasonal flower fields. From the top of the mountain, the illuminations seamlessly combine with the expansive scenery below; at night, a silhouette of Mt. Fuji can be seen in the background, while the metropolis beyond Tokyo Bay and the Yokohama nightscape are incomparably beautiful. Visitors are encouraged to enjoy the farm's transforming scenery, from its bright daylight landscapes to its inspirational twilight views, and finally its illuminations in the dark of the night.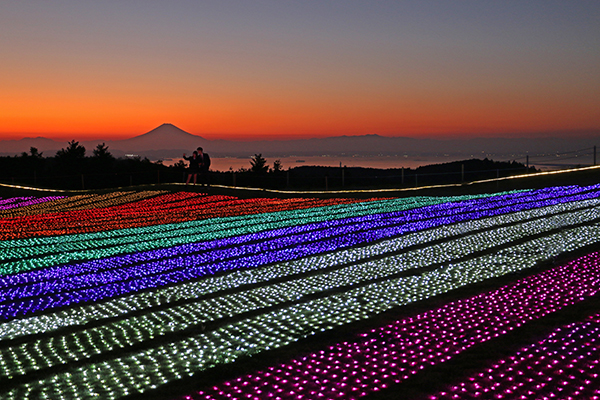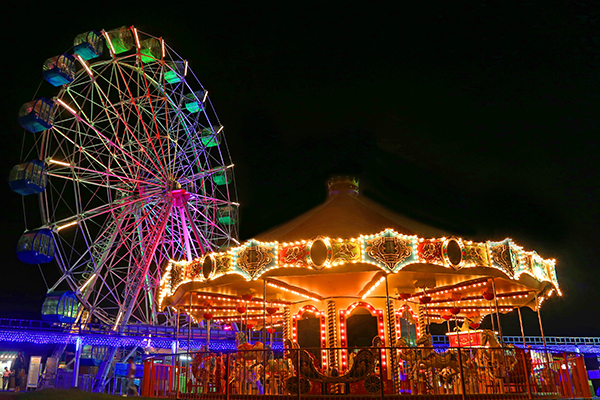 *This page is referred to One Harmony Membership Magazine YAWARAGI Vol.40 (Issued in September 2021)
Okura Akademia Park Hotel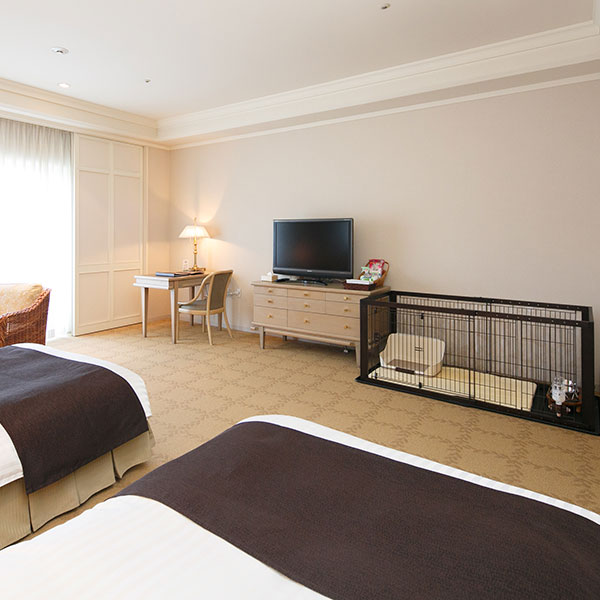 Okura Akademia Park Hotel is around one hour from Tokyo on the Tokyo Bay Aqua Line expressway. The hotel is located amid the Kazusa Hill Range and its expansive natural scenery, welcoming visitors with the excellent hospitality unique to Okura hotels.
In April 2021, the hotel opened its Dog Friendly Rooms for guests visiting with their beloved pets, and a dog run was built later in the summer.