Thailand Getaway | ~Visiting Photogenic Spots~
Hotel Nikko Bangkok recommends photogenic spots to capture your special moments.
Taling Chan Floating Market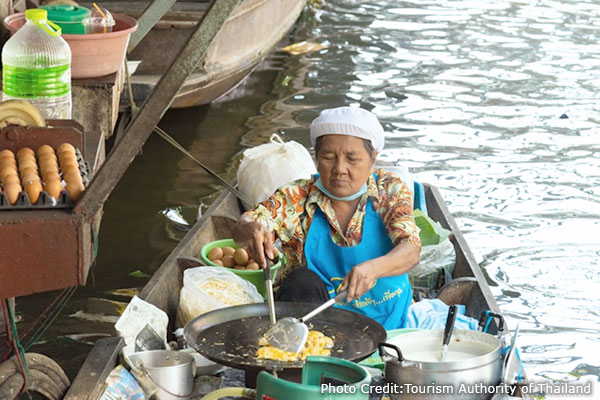 The Taling Chan Floating Market is located along the Chak Phra Canal and in front of the Taling Chan City Hall in the "Taling Chan District" on the west side of Bangkok.
People who lived in Bangkok before the city became more active due to modernization, built their houses along the Chao Phraya River. They used boats that traveled on the canal as a means of transportation, rather than on land, because the roads were not well maintained at that time. Because of the remnants of that time, the market is still operating, mainly for the tourists. People sell a variety of foods and seasonal fruits, fresh local vegetables, and fish on the boats. There are also temples, orchid farms, and on-the-water restaurants for the tourists to enjoy.

Taling Chan Floating Market
Business Hours: 07:00~17:00 on weekends
Address: Khlong Chak Phra Taling Chan Bangkok 10170
Access from the hotel: Take the No.511 bus from BTS Thonglor station (exit 2,4), get off at 37th stops at Cedar Mansion station.
Wat Saman Rattanaram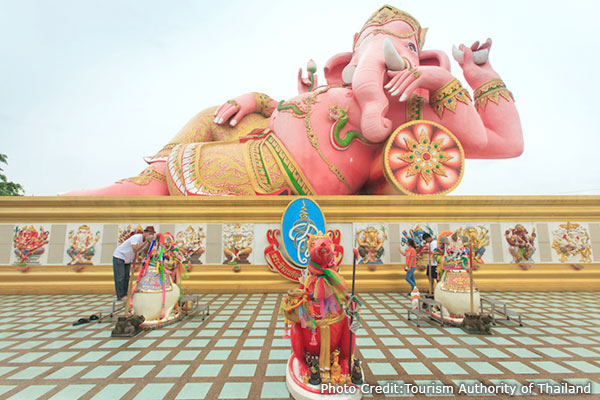 The large pink Ganesh statue, which leaves a lasting impression once seen, is located at Wat Saman Rattanaram Temple. Generally, the Ganesh statue has a human body, four arms, and an elephant head with one tusk missing. It is the god of wealth and the god of commerce and academics.
There are a total of 14 mouse around the Ganesh statue. In Thailand, each day of the week of the week is assigned a specific color, and the color of the mice surrounding Ganesh is also assigned to each day of the week, so you can pray to the mice of the same color as the day of your birthday.
The temple is located in Chachoengsao Province. It is about an hour and a half drive from Bangkok, so it is a little far from Hotel Nikko Bangkok, but there are half-day tours departing from Bangkok. Wat Saman Rattanaram could be a suitable photogenic sightseeing spot in Thailand.

Wat Saman Rattanaram
Address: Moo 2, Tambom Bang Kaeo, Amphoe Muang Chachoengsao, Chachoengsao
Access from the hotel: One and a half hour by car
Mahanakhon Skywalk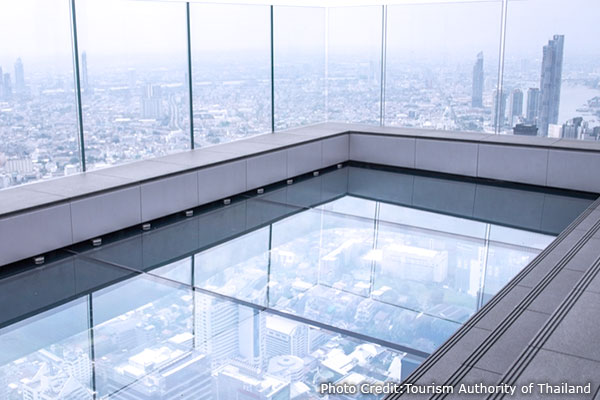 Designed by award-winning German architect Ole Scheeren, the King Power Mahanakorn Building is a representation of vibrant urban Bangkok. The top floor of the building, the 78th, is home to the Mahanakorn Skywalk, a popular tourist attraction.
There are duty-free stores, a hotel, residences, and a hotel in the building. On the ground floor is the Mahanakorn Skyriders, a VR experience of flying over Bangkok, where visitors can experience gliding through the sky while dodging obstacles.
The Skywalk is known as the highest observation deck in Thailand at 310 meters above ground. At the end of the observatory, which offers a 360-degree view of Bangkok, is one of the world's largest glass floors, providing a thrilling experience. The Skywalk, with its café bar and music, has a great atmosphere and is becoming increasingly popular as a new tourist attraction. Visit just before sunset and take a picture with the sunset, and you will definitely enjoy the pleasure of your trip to Bangkok!

Mahanakhon Skywalk
Business Hours: 10:00~19:00, last entry at 18:30
Address: King Power Mahanakhon 114 Narathiwas Road, Silom, Bangrak, Bangkok 10500
Access from the hotel: 6 Stops from BTS Thonglorstation by BTS Sukhumvit Line, transfer to BTS Silom Line and get off at the 3rd station.
Tichuca Rooftop Bar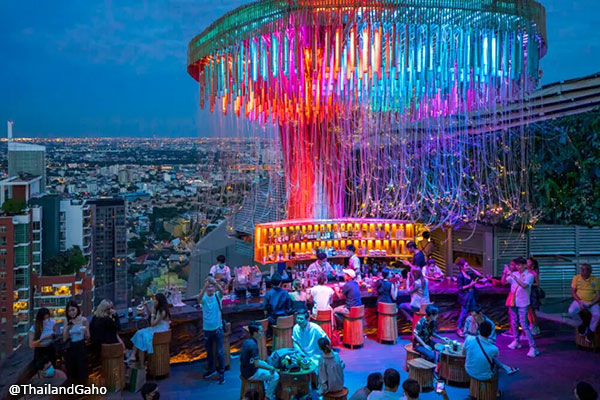 Tichuca Rooftop Bar is Bangkok's one of the newest bar in Bangkok. Although the business once opened in December 2020, it closed for lockdown but quickly became a popular spot when it reopened for business in September 2021.
Located within walking distance of the Hotel Nikko Bangkok, this unique outdoor bar was designed to resemble a jungle on the 46th floor of an office building called the T-One Building. The large trees covering the main bar are lit up at sunset, creating a fantastic atmosphere with colorful illumination.
It is a unique feature of Bangkok's nightlife that you will never get bored and have fun until nightfall. Tichuca Rooftop Bar would be the one stop you should definitely make before returning to your hotel.

Tichuca Rooftop Bar
Business Hours: 16:00〜22:00
Address: T-One Building 8, 46th Floor, Sukhumvit Soi 40, Phra Khanong, Khlong Toei, Bangkok 10110 Thailand
Access from the hotel: 10m away by walking
---
Hotel Nikko Bangkok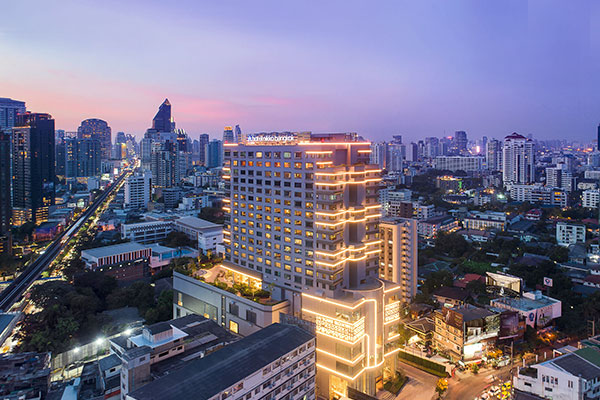 Hotel Nikko Bangkok is located in the heart of Bangkok Metropolitan, Sukhumvit Road and just a few steps away from Thonglor BTS SkyTrain Station.
We offer comfortable, functional and stylish accommodation with outstanding city views. The facilities include a Japanese restaurant "Hisho", an all-day dining restaurant "Oasis" as well as a "Lobby Lounge", where guests from Japan can enjoy a pleasant time.
---