Known as the "Land of Smiles", Thailand offers many attractions for tourists. Located in the heart of Southeast Asia, it is easily accessible from many countries and has become one of the most popular travel destinations.
While modernization is underway with skyscrapers and shopping malls, people also cherish the beautiful and historic royal palaces and temples.
There are three Okura Nikko Hotels in Thailand: The Okura Prestige Bangkok, Hotel Nikko Bangkok, and Hotel Nikko Amata City Chonburi. This page introduces some of the sightseeing spots recommended by the three hotels that you should visit in Thailand. Our goal is for you to have comfortable accommodation, whilst having an amazing time in Thailand.
---
The Okura Prestige Bangkok
The Okura Prestige Bangkok is located at the intersection of Wireless Road, where foreign embassies are concentrated, and Phloen Chit Road, Bangkok's leading commercial district.
Embracing Asian design that harmonizes Japanese and Thai cultures, the hotel boasts cutting-edge facilities, an outdoor swimming pool that protrudes high up from the building, a sophisticated spa, and a range of restaurants, among others, these comfortable spaces, combined with the attentive hospitality of the hotel, ensure guests a peaceful stay.
Please see The Okura Prestige Bangkok's recommendations of four places to visit in Bangkok.
---
~Satisfying Shopping Trip in Bangkok~
Terminal 21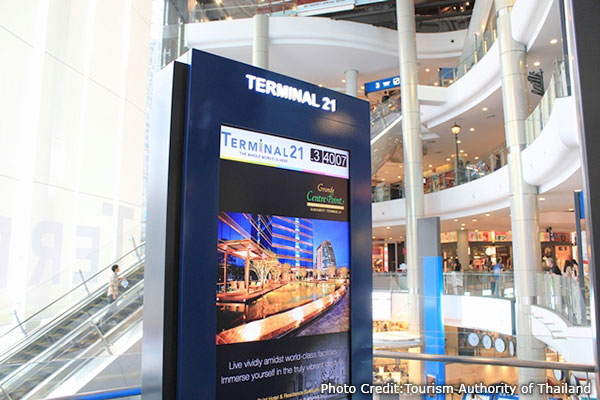 Terminal 21 is a huge shopping mall on Sukhumvit Road, directly connected to the BTS Asok station and easily accessible from The Okura Prestige Bangkok. It is one of the most popular shopping malls for both the locals and the tourists.
The interior design is based on an airport motif, with each floor featuring a boarding gate sign and each floor themed after a different city around the world, such as London, Paris, San Francisco, and Istanbul, with Tokyo as the first floor.
With local designer brands, boutiques, and a wide variety of restaurants, you are sure to get a round-the-world feeling while shopping.

Terminal 21
Business Hours: 10:00~22:00
Address: 2,88 Sukhumvit Soi 19(Wattana) Sukhumvit Rd. North Klongtoei, Wattana, Bangkok 10110
Access from the hotel: 2 stops away from Phloen Chit station by BTS Sukhumvit Line
Jim Thompson' s House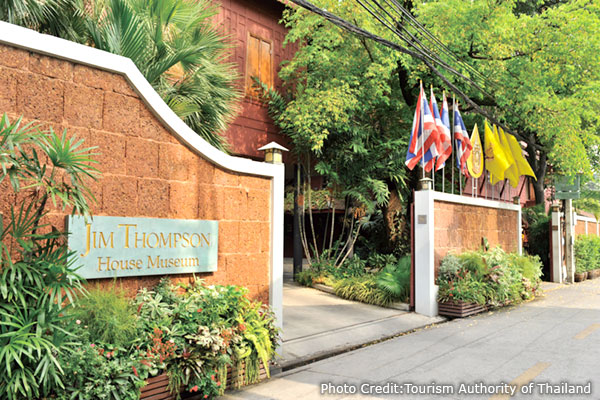 Bangkok has many famous local museums and art galleries, and Jim Thompson House is one of them. Former CIA operative and entrepreneur Jim Thompson introduced Thai silk to the world, mysteriously disappeared while on vacation in Malaysia. An avid collector of Asian antiques and objects, Thompson filled his home with exquisite furniture, fabrics, sculptures, paintings, and curiosities, creating a temple of refined design and taste. The ruins of his former residence, which attracted many Thai celebrities, are now open to the public as a museum.
Visitors can also enjoy shopping for souvenirs such as Thai silk scarves, ties, and bags at the on-site boutique.

Jim Thompson' s House
Business Hours: 10:00~18:00
Address: 6 Soi Kasemsan 2, Rama 1 Rd., Bangkok 10330
Access from the hotel: 3 stations away from Phloen Chit station by BTS Sukhumvit Line
Phra Phrom (Erawan Shrine)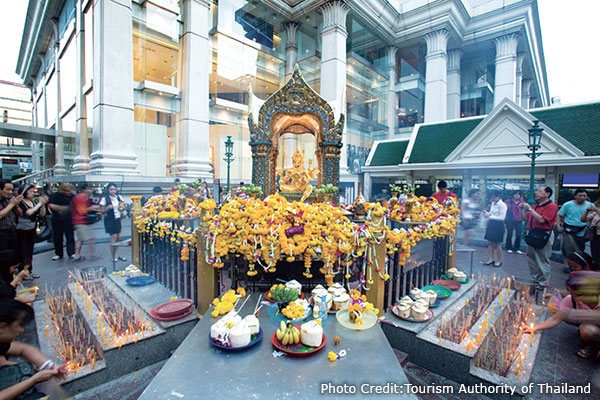 Although Thailand is a predominantly Buddhist country, it has a history of religious acceptance, and you will find shrines of all religions everywhere you go. Not only the Buddha and his teachings, but also many Hindu and other deities are worshipped as well. One of the most famous examples is the Erawan Mausoleum, built in 1956. It is crowded with worshippers all year round. It is located only a 10-minute walk from The Okura Prestige Bangkok, easily accessible for the tourists.
The golden statue of Phra Phrom, which is a Thai representation of Brahma, the Hindu god of creation, is known as the "wish-fulfilling god". The worshippers make offerings and pray for good luck. Traditional dances performed here are also popular. The money donated to the temple will be used to fund medical equipment for the hospitals in Thailand.

Phra Phrom (Erawan Shrine)
Visiting Hours: 08:00~22:30
Address: Rachaprasong, Lumpini, Pathumwan, Bangkok 10330
Access from the hotel: 10-minute walk away
ASIATIQUE THE RIVERFRONT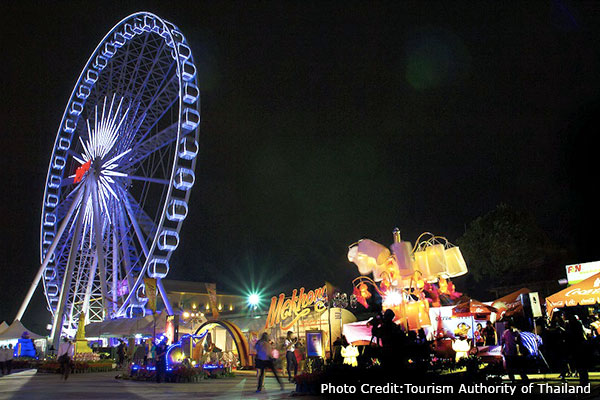 Asiatique the Riverfront night market is one of the most popular night markets for tourists. Located along the riverfront in Bangkok's Chao Plaza, it features more than 1,500 stall-style stores and more than 40 restaurants in a converted old warehouse.
To ensure that even the vast facility can be enjoyed, it is divided into four districts: Chalongkrung District, Town Square District, Factory District, and Waterfront District. More than 40 restaurants offer a variety of dining options, from reasonably priced local food to fine wines. With a variety of shows and events taking place daily, this theme park offers a variety of ways to enjoy the unique nightlife in Thai.

ASIATIQUE THE RIVERFRONT
Business hours: 16:00〜24:00
Address: Charoenkrung Soi 72-76 , Charoenkrung Road, Wat Phrayakrai District, Bangkor Laem, Bangkok 10120 Thailand
Access from the hotel: Take the bus from Phloen Chit station to Siam Centr, take BTS Silom Line to Saphan Taksin Station and take the free shuttle for 15 minutes, or taxi for 5 minutes